Tracey-Ann Oberman
on BBC Breakfast
Tracey-Ann Oberman 's BBC Breakfast interview from July 14th
John Barrowman:
Richard & Judy
John Barrowman's interview on Richard & Judy 9th January 2006
Billie Piper: Entertainment News
Billie on Radio One Entertainment News 1st August 2006
Interview from the New Series Previews
Mark Gatiss is interviewed at the Cardiff Millennium Centre at the press Launch following the preview of New Earth
David Tennant on the Jo Whiley Show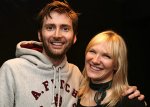 David Tennant was quizzed by Jo Whiley on 13th April 2006, discussing the history of Doctor Who, discussed the logistics of hiding behind the sofa, and answering questions from Radio One listeners.
Radio Wales goes Back In Time
May 6th on Radio Wales:
Julian Carey explores the links between the Time Lord and Wales.
So how did the Who team cope with casting a new Doctor, building a spaceship a few miles wide and made out of space rock and make it Christmas time in Cardiff in the middle of an August heatwave? This is the show that reveals all.
Russell T Davies Radio Two
On 30th April, Aled Jones interviewed Russell T Davies on Good Morning Sunday on Radio Two. For those of you who weren't up at that unearthly hour, here it is again...
David Tennant on Tonight with Jonathan Ross
David Tennant on The Big Fat Quiz of the year